07-30-2011, 09:04 PM
Post: #1
SeattleGirl
DFP Contributor


Posts: 4,388
Joined: Dec 2010

"Look ma, no brains!"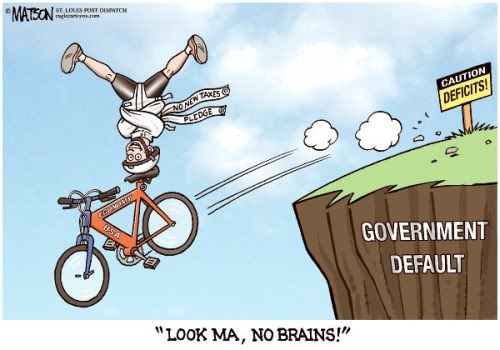 ---
Silence is consent.
07-30-2011, 09:32 PM
Post: #2
Cha
OCEAN CALLING


Posts: 6,066
Joined: Dec 2010

RE: "Look ma, no brains!"
They expect a prize at the bottom of that cliff in the form of everyone blaming their stupidity on President Obama. They do have the corporatewhoremedia in their pocket so it's not all a crack pipe dream but they all underestimate him and know nothing of THE LAW OF UNINTENDED CONSEQUENCES.
---
"Democracy Is Not A Spectator Sport. The Future Is Ours If We Actively Participate In Shaping It"
John Harder~
http://zerowastekauai.org/index.html
07-31-2011, 12:02 AM
Post: #3
RE: "Look ma, no brains!"
that is so perfect it hurts.

thank you for posting that, SeattleGirl.
---
User(s) browsing this thread: 1 Guest(s)