06-06-2011, 09:33 AM
Post: #1
azmouse
Admin + Smilie Maven


Posts: 7,233
Joined: Nov 2010

History Teaches - June 6
June 6, 1933: The first drive-in movie theater opens
Richard Hollingshead received a patent for the concept of a "Park-In" theater (as they were originally called) in May of 1933, and opened his first theater for motorists in Camden, New Jersey the following month.
His patent was overturned in 1949 and drive-ins began opening all over the country. They were known for mostly showing 'B' movies and the sound quality wasn't very good until technology allowed for the movie's soundtrack to be played over a car's FM radio.
Drive-ins became a weekend destination for Americans during the 1950s and 60s. At their peak, about 5000 drive-ins were scattered across America. Now with the rise of home video systems and comfortable walk-in theaters, the total number of drive-ins has fallen to fewer than 500.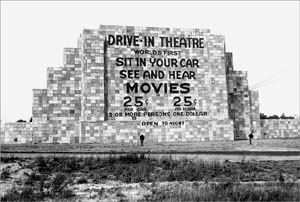 06-06-2011, 09:49 AM
Post: #2
Treestar
Moderator


Posts: 3,271
Joined: Nov 2010

RE: History Teaches - June 6
I'm old enough to remember going to those as a kid.

We say 20000 Leagues under the sea at the one nearest our house.

Now it's a condo development.

It'll always be a 50s and 60s kind of thing.
---
"Change will not come if we wait for some other person or some other time. We are the ones we've been waiting for. We are the change that we seek." Barack Obama
Is féidir linn.
06-07-2011, 12:52 AM
Post: #4
RoyGBiv
Auf Wiedersehen, adieu


Posts: 2,948
Joined: Nov 2010

RE: History Teaches - June 6
I saw my first Rated - R movie at a drive-in, when I was like 10. Little Darlings, if I recall the name correctly, movie about coming of age at camp with Kristy McNichol and Tatum O'Neil. Something my cousin wanted to see.

I hated it.

But I loved the drive-in experience.
---
"The first thing I do in the morning is brush my teeth and sharpen my tongue." -- Dorothy Parker
06-11-2011, 01:53 AM
Post: #5
RE: History Teaches - June 6
what a blast! i loved them! wish i knew where even one of them still existed.

thank you for posting this, azmouse!!
(i can finally post, so i'm catching up!)
---
User(s) browsing this thread: 1 Guest(s)