You just wrote your epitaph, GOP
02-08-2017, 01:11 PM
Post: #1
jaxx
Moderator


Posts: 33,898
Joined: Dec 2010

You just wrote your epitaph, GOP
Dr. DaShanne Stokes ‏@DaShanneStokes 1h1 hour ago
You just wrote your epitaph, GOP. #GOP #LetLizSpeak #ShePersists #ShePersisted #women #stopsessions #resist #TheResistance #CorettaScottKing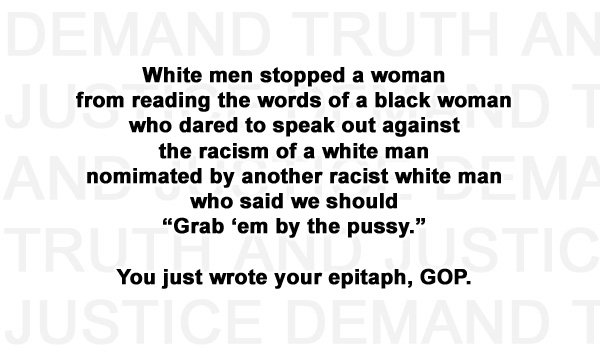 Any questions?
---
#NMP


My President is

Barack Obama

.
#TheResistance
02-08-2017, 02:51 PM
Post: #2
Brewman_Jax
DFP Contributor


Posts: 7,442
Joined: Apr 2011

RE: You just wrote your epitaph, GOP
I wish it were that sure. The deplorables elected the worst deplorable of all, and think it's a great thing. Mainly to help them forget about the black guy in their White House. It's too early to call them done.
---
Conservatism (n.), the irrational fear that somewhere someone you think is inferior is being treated as your equal.
User(s) browsing this thread: 1 Guest(s)