'Cause nothin' says Xmas like Santa and guns
12-14-2012, 02:19 PM
Post: #1
azmouse
Admin + Smilie Maven


Posts: 12,908
Joined: Nov 2010

'Cause nothin' says Xmas like Santa and guns
gawd... sometimes I really hate this state.
Quote:http://www.azfamily.com/news/scottsdale-...52101.html

PHOENIX -- Apparently Santa Claus likes guns.

"There's not many places where you can see Santa and have a machine gun in your hands at the same time," said Norm Stalsperg while standing in line at the Scottsdale Gun Club on Sunday to take a picture with the jolly fellow surrounded by or holding an arsenal of weapons.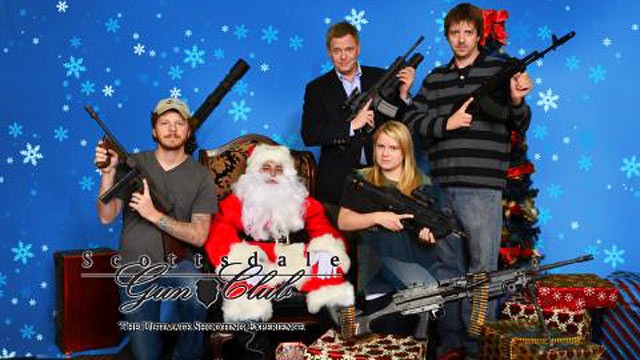 ---
"When I despair, I remember that all through history the way of truth and love have always won. There have been tyrants and murderers, and for a time, they can seem invincible, but in the end, they always fall. Think of it--always."
― Mahatma Gandhi
#NotMyPresident
User(s) browsing this thread: 1 Guest(s)