TOONs: Affordable Care Act
06-30-2012, 10:23 PM
Post: #1
TheNewMe
Member


Posts: 730
Joined: Dec 2010

TOONs: Affordable Care Act
O
Romneycare
Sick GOP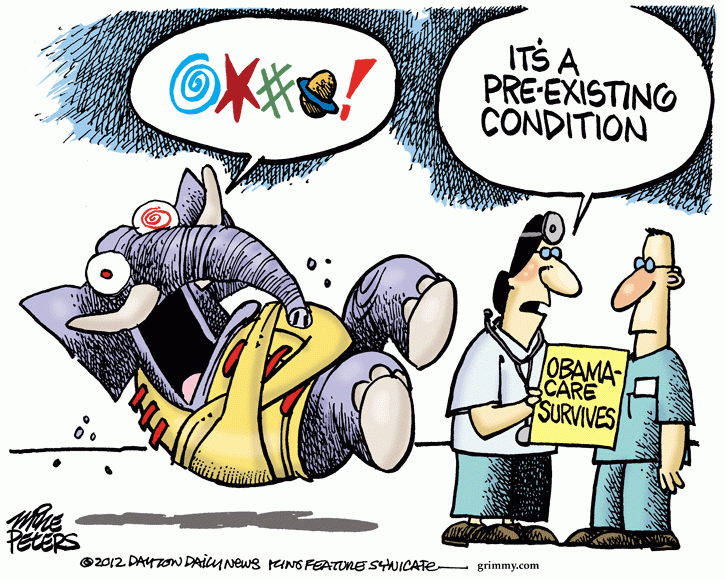 Roberts
GOP
---
07-01-2012, 12:34 AM
Post: #2
SeattleGirl
DFP Contributor


Posts: 5,009
Joined: Dec 2010

RE: TOONs: Affordable Care Act
I'd seen all of them except the last one.

Great collection, TNM!
---
Silence is consent.
07-01-2012, 10:02 AM
Post: #4
Treestar
Moderator


Posts: 3,273
Joined: Nov 2010

RE: TOONs: Affordable Care Act
All good. I especially like the one with bummed out Death.
---
"Change will not come if we wait for some other person or some other time. We are the ones we've been waiting for. We are the change that we seek." Barack Obama
Is féidir linn.
07-01-2012, 03:37 PM
(This post was last modified: 07-01-2012 03:39 PM by janedrake.)
Post: #5
janedrake
Senior Member


Posts: 3,817
Joined: Dec 2010

TOONs: Affordable Care Act
These are wonderful. For some reason, this one especially got me:
I don't give conservatives the benefit of the doubt on anything, but even I have to give credit where credit is due. Until the next battle anyway.
07-01-2012, 04:04 PM
Post: #6
Brewman_Jax
DFP Contributor


Posts: 2,998
Joined: Apr 2011

RE: TOONs: Affordable Care Act
Great toons, esp. the GOP elephant blaming it all on Bush*!
User(s) browsing this thread: 1 Guest(s)