Indelible Image of a Boy and a President
05-23-2012, 05:53 PM
Post: #1
Indelible Image of a Boy and a President
...
Quote:...In the photo, Mr. Obama looks to be bowing to a sharply dressed 5-year-old black boy, who stands erect beside the Oval Office desk, his arm raised to touch the president's hair — to see if it feels like his. The image has struck so many White House aides and visitors that by popular demand it stays put while others come and go. ... http://www.nytimes.com/2012/05/24/us/pol...c_ev=click
Geez, this brought a tear to my eye.
---
Confirmed, Fox "news" makes you stupid



The ones you are noticing are more terrified than anything else. They are lashing out because they are comfortable; and to acknowledge what is happening is a threat to that comfort. Ignore them, for they are not the voices that will rise in the coming days, months and years. They are not the voices of our collected humanity. They are the old voices of fear and impotence.

- Anonymous
05-23-2012, 06:19 PM
Post: #2
azmouse
Admin + Smilie Maven


Posts: 7,229
Joined: Nov 2010

RE: Indelible Image of a Boy and a President
You can almost hear the little boy saying "I can grow up to be president too."
---
"I give thanks for this perfect day. Miracle will follow miracle and wonders will never cease."
"Proud to be a soldier in the War on Christmas..."
05-23-2012, 06:58 PM
Post: #3
SeattleGirl
DFP Contributor


Posts: 4,977
Joined: Dec 2010

RE: Indelible Image of a Boy and a President
I love that picture!
This is another one that I love: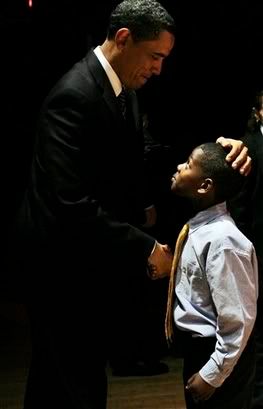 ---
Silence is consent.
User(s) browsing this thread: 1 Guest(s)