Trayvon Martin gun range targets sold online
05-11-2012, 08:00 AM
Post: #1
Trayvon Martin gun range targets sold online
ORLANDO, Fla. -
An unidentified entrepreneur admits he is trying to profit off Trayvon Martin's death by selling gun range targets featuring the teen who's death has sparked a nationwide controversy.
Although Martin's face does not appear on the paper targets, they feature a hoodie with crosshairs aimed at the chest. A bag of Skittles is tucked in the pocket and a hand is holding a can resembling iced tea.
...
http://www.clickorlando.com/news/news/Tr...index.html
Disgusting.
---
Confirmed, Fox "news" makes you stupid



The ones you are noticing are more terrified than anything else. They are lashing out because they are comfortable; and to acknowledge what is happening is a threat to that comfort. Ignore them, for they are not the voices that will rise in the coming days, months and years. They are not the voices of our collected humanity. They are the old voices of fear and impotence.

- Anonymous
05-11-2012, 08:13 AM
Post: #3
Brewman_Jax
DFP Contributor


Posts: 2,998
Joined: Apr 2011

RE: Trayvon Martin gun range targets sold online
That's sad. Anything for money.
05-11-2012, 09:24 AM
Post: #4
azmouse
Admin + Smilie Maven


Posts: 7,264
Joined: Nov 2010

RE: Trayvon Martin gun range targets sold online
This is all I have to say to the subhuman who created the target ------->

---
"I give thanks for this perfect day. Miracle will follow miracle and wonders will never cease."
"For to be free is not merely to cast off one's chains, but to live in a way that respects and enhances the freedom of others." Nelson Mandela
05-11-2012, 12:08 PM
Post: #5
pappy
Veteran


Posts: 6,326
Joined: Dec 2010

RE: Trayvon Martin gun range targets sold online
Quote:An unidentified entrepreneur
Unidentified?
What the hell is this creep afraid of, gun owners with different politics perhaps or maybe just a few nasty emails?
Moran!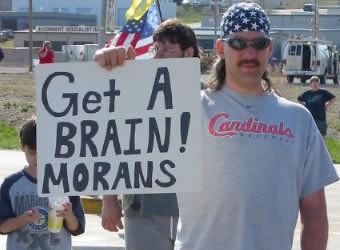 ---
No Justice? No Peace!
05-12-2012, 02:48 AM
Post: #7
RE: Trayvon Martin gun range targets sold online
There's nothing I can say about that accept SICK, SICK, SICK!

(Actually if I said what I really wanted to say it'd be so profanity laced my keyboard would probably go up in flames!)
---
"Understand that the more deeply you hold your ideals,
the more you are morally obligated to be pragmatic...Idealism without pragmatism
is just a way to flatter your ego." -Barney Frank
User(s) browsing this thread: 1 Guest(s)