Brave Gabby Giffords leads Pledge of Allegiance
01-08-2012, 10:32 PM
Post: #1
jaxx
Moderator


Posts: 20,398
Joined: Dec 2010

Brave Gabby Giffords leads Pledge of Allegiance
Brave Gabby Giffords leads Pledge of Allegiance as she makes emotional appearance at Tucson memorial to honour victims of shootings one year ago today
Last updated at 3:50 AM on 9th January 2012
Representative Gabrielle Giffords led a crowd in the Pledge of Allegiance, in a rare public appearance tonight at a candlelight vigil one year after surviving a deadly shooting.
The Democratic congresswoman - who has struggled to re-learn to walk after being shot in the head - stepped onstage to cheers from the crowd. Ron Barber, a staffer who was wounded in the rampage that killed six people one year ago, invited her to lead the audience in the pledge.
The crowd at the University of Arizona chanted: 'Gabby, Gabby.'
She limped to the podium and husband Mark Kelly helped lift her left hand over her heart. After months of intensive speech therapy, Giffords recited the pledge with the audience, head held high and a smile on her face.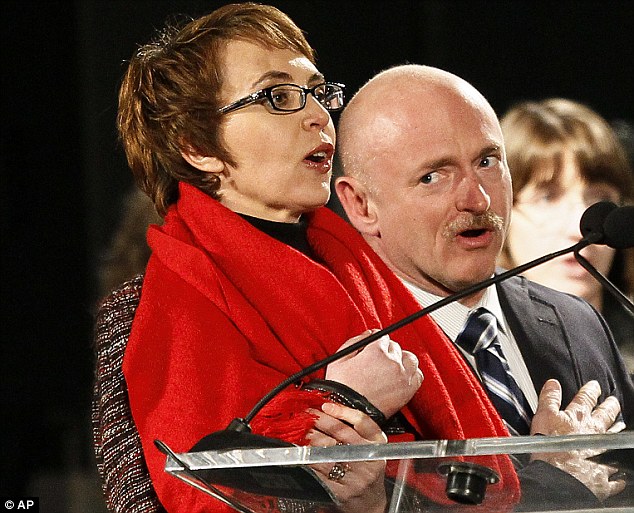 http://www.dailymail.co.uk/news/article-...rsary.html
Brave, yes. And so determined.
More pics at the link.
---


The GOP running for its life.
01-08-2012, 10:34 PM
Post: #2
SeattleGirl
DFP Contributor


Posts: 5,000
Joined: Dec 2010

Shes looking good!
I'm still amazed that she survived, and how well she is recovering.

Go Gabby!
---
Silence is consent.
01-08-2012, 10:48 PM
Post: #4
DFW
Member


Posts: 975
Joined: Dec 2010

RE: Brave Gabby Giffords leads Pledge of Allegiance
You had to have known her before. She ALWAYS had this kind of determination. Even the crazy man's bullet couldn't kill that.
---
"Believe those who seek the truth. Doubt those who find it."--André Gide
01-10-2012, 08:34 AM
Post: #7
azmouse
Admin + Smilie Maven


Posts: 7,246
Joined: Nov 2010

RE: Brave Gabby Giffords leads Pledge of Allegiance
I get teary eyed every time I hear good news about Giffords.
---
"I give thanks for this perfect day. Miracle will follow miracle and wonders will never cease."
"For to be free is not merely to cast off one's chains, but to live in a way that respects and enhances the freedom of others." Nelson Mandela
User(s) browsing this thread: 1 Guest(s)