5% Think Congress Doing a Good Job: New Low
01-01-2012, 09:26 AM
Post: #1
5% Think Congress Doing a Good Job: New Low
Friday, December 30, 2011
Just when you think the numbers couldn't get any worse for Congress, the end of session debacle over the payroll tax extension comes along and drives perceptions of Congress even lower.
The latest Rasmussen Reports national telephone survey finds that just five percent (5%) of Likely Voters rate the job Congress is doing as good or excellent. Sixty-eight percent (68%) view Congress' job performance as poor.
...
http://www.rasmussenreports.com/public_c...rce=google
________________________________________
They're talking about you Boner, Cantor and Turtle.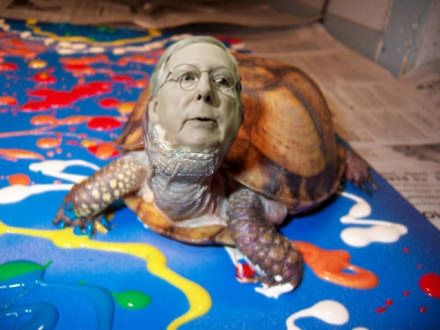 ---
Confirmed, Fox "news" makes you stupid



The ones you are noticing are more terrified than anything else. They are lashing out because they are comfortable; and to acknowledge what is happening is a threat to that comfort. Ignore them, for they are not the voices that will rise in the coming days, months and years. They are not the voices of our collected humanity. They are the old voices of fear and impotence.

- Anonymous
01-01-2012, 09:59 AM
Post: #3
RE: 5% Think Congress Doing a Good Job: New Low
(01-01-2012 09:53 AM)

jaxx Wrote: 5% approval says they can't legislate. The do nothing Congress has shown it's ass to the people.
Yeah, they've showed us the "floating turtle's head" if you catch my drift.
---
Confirmed, Fox "news" makes you stupid



The ones you are noticing are more terrified than anything else. They are lashing out because they are comfortable; and to acknowledge what is happening is a threat to that comfort. Ignore them, for they are not the voices that will rise in the coming days, months and years. They are not the voices of our collected humanity. They are the old voices of fear and impotence.

- Anonymous
User(s) browsing this thread: 1 Guest(s)