---
Cracked: 6 Things Rich People Need to Stop Saying - SemiCharmedQuark - 03-05-2012 01:03 PM


Quote:#1: "Stop Asking for Handouts, i Don't Get Help from Anybody"

And you literally hear people express it this way -- in libertarian circles they refer to it as "Going Galt" (as in John Galt, the hero of Atlas Shrugged) -- fed up rich people just disconnecting from this annoying "society" thing that's bleeding them dry. If you live in my part of the country, you'll hear hard-working, rural farmer types say, "I got my own piece of land, I grow my own food, all I want is to be left alone." All right, well tell me this, cowboy:

Let's say some mean, even richer guy, like a wealthy gangsta rapper, hired a bunch of armed thugs to come take your farm. What would you do? Your shotgun won't fend them off -- they have a hundred bigger shotguns. What will you do, call the cops? That is, other people, who will risk their lives while being paid with still other people's tax money, who will try these bad guys in a court funded by yet other people's tax money, under laws passed by legislators paid with other people's tax money? Whoa, slow down there, welfare queen!

But if none of that stuff existed, there would be nothing stopping Jay-Z from taking your farm. In other words, you don't "own" shit. The entire concept of owning anything, be it a hunk of land or a house or a fucking sandwich, exists purely because other people pay other armed men to protect it. Without society, all of your brave, individual talents and efforts won't buy you a bucket of farts.

So when I say "We're all in this together," I'm not stating a philosophy. I'm stating a fact about the way human life works. No, you never asked for anything to be handed to you. You didn't have to, because billions of humans who lived and died before you had already created a lavish support system where the streets are all but paved with gold. Everyone reading this -- all of us living in a society advanced enough to have Internet access -- was born one inch away from the finish line, plopped here at birth, by other people.


Read more: 6 Things Rich People Need to Stop Saying | Cracked.com http://www.cracked.com/blog/6-things-rich-people-need-to-stop-saying_p2/#ixzz1oGpgRwM4


---
RE: Cracked: 6 Things Rich People Need to Stop Saying - jaxx - 03-05-2012 01:20 PM

What They Think They're Saying:
"I pulled myself up by my bootstraps!"

Those moldy old bootstraps again! Idiots.


---
RE: Cracked: 6 Things Rich People Need to Stop Saying - janedrake - 03-05-2012 02:09 PM

Okay - you know I'm going to say it - I like the premise, but have a problem with the author of the piece equating Jay-Z with a "wealthy gangsta rapper" who could/would hire a bunch of "armed thugs" to go after Farmer Jim's property - Warren Buffett hangs out with Jay-Z for goodness sakes!: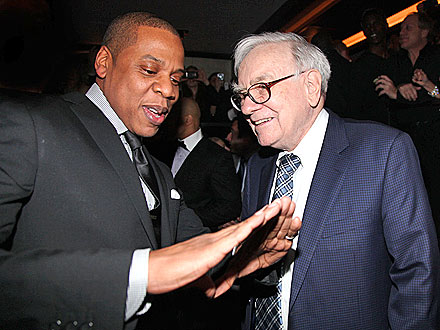 (And it wouldn't be "rappers" coming after their property - it would be their own local Republican businesspeople vis a vis - eminent domain).


---
Good One! - Treestar - 03-05-2012 02:50 PM

Very good points. We all know those 6 sayings are crap. This article puts it into perspective. About time someone answered those stupid arguments.!


---